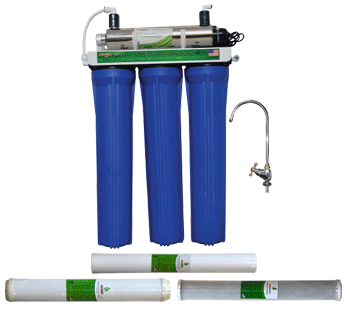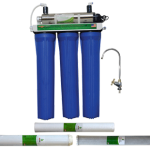 Heron GUV-401-20 UV Water Purifier
৳ 13,500.00
Features:
4 Stages of UV Filtration Systems.
0 gallon per minute recommended Flow.
Heavy-duty steel with powder coating white bracket
UV stainless steel housing.
Feedwater connector or self-piercing saddle valve.
Completely Assembled
100% Factory Tested and Sterilized Ready for Installation.
Long reach ceramic goose faucet.
Installation Accessories are included.
Operation pressure: 15 -85 PSI.
Description
Heron GUV-401-20 UV Water Purifier
Model: GUV-401-20
Heron GUV-401-20 UV Water Purifier in Bangladesh one economical and efficient way of disinfecting the water supply is by irradiating it with UV light.
UV Water Purifier is known that UV light of wavelengths between 250 and 270 nanometers (UV-C or UVC band) is extremely effective in killing many species of bacteria, mold spores, viruses, and other microorganisms.
The UV Water Purifier's light causes DNA damage to the cells of the microorganisms that leads to mutations and eventual cell death.
Using light radiation in this manner to purify water is popular among Europeans who have known about it for decades.
Its use in the United States started in the early 1990s and is becoming ore prevalent especially with outbreaks of drinking water contamination by microorganisms.
Looking for Buy Heron G-RO-200 RO Water Purifier? Click Here